You've never heard of a knish you say? Don't feel bad. I never did either until I was in my late twenties and my Bronx born-and-bred Hungarian Jewish husband introduced me to them. What is it? According to Wikipedia: "A knish /kəˈnɪʃ/ is a traditional Ashkenazi Jewish snack food consisting of a filling covered with dough that is typically baked or sometimes deep fried." That mundane description doesn't even begin to cut it.
A knish is a carb-loaded, piece-of-heaven, Jewish comfort food. It's basically a mashed potato ball, traditionally filled with nut-flavored kasha groats or more mashed potatoes with caramelized onions. It's either baked or fried. Nowadays knishes are also filled with meat, sauerkraut, cheese, or vegetables. Spinach knish is one of my favorites.
Yes, Wikipedia, it could be a snack food. One knish is filling enough that it could also be a meal or even a hand-warmer on cold winter days. In the early 1900s, Eastern European Jewish immigrants brought knishes to New York, where they were sold in 'knisheries" that evolved into famous Jewish bakery/delicatessen/appetizing stores like Yonah Schimmel Knish Bakery, Katz's Delicatessen, and Russ & Daughters. Also sold by street vendors, knishes are a quintessential New York City street food like black & whites (cookies), hot pretzels with mustard, or slices (pizza).
Knishes may not be particularly well-known outside of the New York metropolitan area, but we in the hinterlands (100 miles from NYC) can find pretty good knishes at some grocery stores — such as New Jersey based ShopRite — local kosher markets, and New York style delis. Speaking of which, I think it's time for a visit to Rein's New York Style Deli.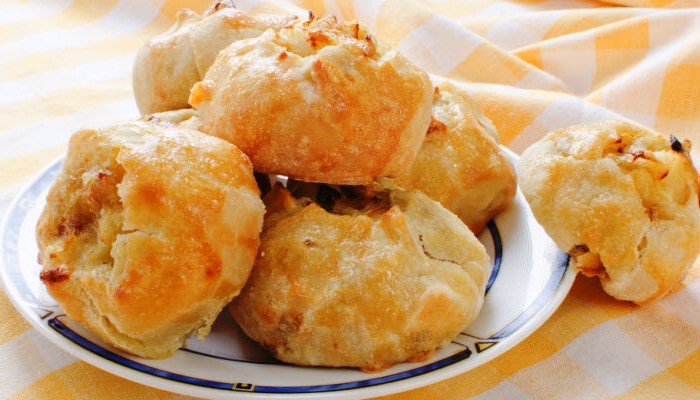 Picture copied from The Jewish Kitchen; the link will also take you to a recipe.